Back in March I took part in Art Battle at the Deaf Institute. The deal is that 10 artists each have 30 minutes to produce a piece of work in front of an audience. In January I must have gone a bit mad, as I thought this would be a good challenge. Cut to March, I was thinking more along the lines of, 'how can I get out of this?'. I searched for the hero inside myself, and with support from my most loyal pewtersmith, Ella McIntosh, set out, armed with paper, pencils, ink and paint. I'd spent most of the day preparing, which may have been a bit of an error, as I wasn't feeling particularly relaxed. I had been drawing 1920s women for a brief, and loved this image of Clara Bow in Rough House Rosie, and thought the idea of a tough boxing woman was ideal for art battlin'!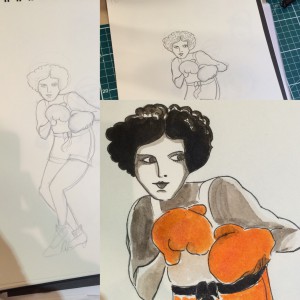 It had sold out in a record time of about 4 hours, and I was going to have to draw in front of 200 people under strict time constraints. Shit. This is exactly the opposite of how I like to work, and in fact live my life. But, that's why it's a challenge, right?? The easels were set up in the middle of the dance floor, with many hot, hot spotlights glaring down. I was sweating already. There were 2 rounds of 5, luckily I was in the first round, so I could get it over with and sup down a beer!
I'd prepared a pumping playlist of exactly 30 minutes to help me concentrate and block out any audience noises. Unfortunately the music and crowd were so loud I couldn't really hear it, so it didn't help much! My hands were shaking so much for the first 10 minutes that I messed up my pencil lines, the perspective was really off. I knew I was rushing, but the nerves had taken hold. I settled into more of a rhythm when I started to ink my lines. I realised my paintbrush was too small for the shading effect I wanted, but it was far too late to do anything about it, just had to persevere. People came right up to us as we were working, which was a bit disconcerting, but more so was the camera right in my face! Eek!
At the end of the 30 minutes I felt relieved that it was over! I wasn't completely happy with how my painting turned out, but I don't think I ever would be in half an hour. By the end of the evening I felt completely drained (I had also given blood 2 hours before the event started, oops). All the artworks were auctioned off, with half the money going to the artist, and half to Stretch charity, which was really nice. I was super happy that my painting sold! All in all it was a great experience, really nerve-wracking, but I got up there and pushed myself, met some lovely people, and made some money for charity. I think I would do live painting again, but maybe not under the 30 minute time constraint, it's so hard to produce something in that time. I need to edit! If you are interested in attending an Art Battle, the next one is 9th July at Mantra Warehouse. It looks like a much bigger space, so I think there may still be tickets left for it. Massive thanks to John and Sophie for their amazing organising and for putting on such an ace event! If you have an interest in graffiti/street art generally, look out for some amazing work popping up around Manchester at the moment, as part of the Cities of Hope convention.